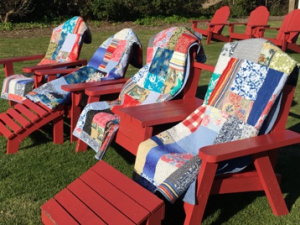 Clothing labels will be your friend in this mission. Maybe some loud music too. Just have fun and go easy on yourself.
Look for "cotton" or "cotton/polyester" on the label of the clothing. Most of the time, the label can be found at the collar or side seam. Those articles of clothing will be perfect candidates for your Legacy Quilt.
Look at the washing instructions on the label. "Dry Clean Only" won't play well amongst the "cotton, polyester" kids. Those "Dry Clean Only" clothes can go back in the closet/dresser.
Can't find the label? No problem! If it stretches, see #8. If it doesn't stretch, see #5. If it's scratchy, see #3.
If the label says "Hang Dry", those clothes are a definite maybe. Set those aside as possible candidates.
If you can read this line through the fabric, it probably won't play well in your quilt. Thin fabrics will break down quickly causing your whole Legacy Quilt to fail.
Don't worry about matching colors or patterns. Your loved one has already thought that through. Everything coming out of his/her closet or dresser will automatically match.
"What about T-Shirts", you ask? No problem! I have a process to fake out the stretchy knits of t-shirts into playing well with woven fabric.
Every pile you have collected needs to be washed and dried.
No need to cut any of the clothes. That's my happy place so let this Curly Girl have some fun too.
The purpose of this "divide & conquer" mission is to identify similar fabrics that will play well together in your Legacy Quilt. If the fabrics are of different elements (wool vs cotton) or densities (denim vs gauze), your Legacy Quilt will be cranky. Not to worry; I follow you into battle. I won't allow a "Dry Clean Only" kid to sneak in to your Legacy Quilt.
No Judgment Zone
This mission might take minutes, hours, days, months or years. There is no time limit nor first place ribbons. Some folks are ready to begin this process immediately while others need over a decade. Some people are able to power through this mission without any potty breaks while others stutter-stop throughout the entire process.
Contact Me
Still uncertain? No worries. Consider me as your "training wheels" and personal cheerleader. Skip over to my "Contact Me" page to ask questions or pour out your heart. Remember, I have walked a mile in your moccasins, worked in medicine, motherhood and man-hunting. There is nothing you could say that will suddenly straighten out my curls.
Hugs & Blessings to you…