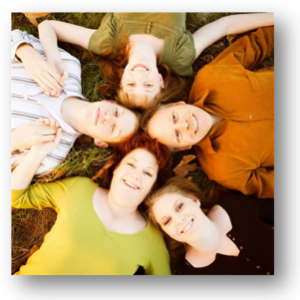 Life is GOOD! Seriously unpredictable. Never uneventful. But Life is always GOOD! That's me in a nutshell. Somewhat of a terminal optimist, I always view the glass as half full or the dark clouds only as a lovely backdrop to bring out their silver lining.
My career path began in medicine (oh, the stories I could tell). My next career path is Motherhood, which is still my favorite career path. I have 3 kidlins; all healthy & happy adults now. During their growing up years, I volunteered everywhere I could. Tapping in to my love of medicine, you could usually find me volunteering at the Livermore VA Hospital. When I wasn't at the VA, I was playing room mom at the kidlins' school.
World-Rocking Day
Etched into the tree stump of life, September 11, 2001 is my indelible touchstone. Watching the dust settle from the collapsed towers, I saw the building of my husband's customer across the street from the World Trade Center. As the cameras rolled constant footage of live news, Hubby called from Atlanta, GA to tell me his flight had been grounded indefinitely. Music to my ears. That's about the time I realized my world would be forever changed.
About 6 months later while living on high-alert, my fear suddenly switched to a "not on my watch" defiance. I began reading everything I could find on terrorism. I took every FEMA class offered online. I traveled to hear the audio tapes captured from Osama bin Laden's lair. I began taking basic law and criminology classes. I was fully onboard when the "See Something, Say Something" campaign began. My inner sheepdog puppy was now a full grown dog, constantly sniffing the air for any signs of meanness perpetrated on my watch.
With all the extra education I gathered while on my quest of turning my fear to courage, I ended up with my credentials for counterterrorism and criminal profiling. And just like that, law enforcement was my next career path (oh, the stories I could tell).
By now you're probably wondering how I made the leap from medicine – motherhood – man hunter – maker of quilts. Sewing & quilting has been my constant thread of creative hobby. It's been my refuge and escape when the world at large has turned ugly. My Hubby can take one look at this sheepdog-at-heart and know it's time to drop me into the middle of a fabric store for some serious therapy. Petting bolts of fabric brings me back to center and returns me to Life is GOOD!
Curly Happens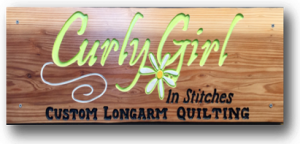 I officially began my business in 2014 after yet another world-rocking event. Both of my parents passed away within 10 months of each other in 2013. Healthy & strong in January, by December my brother and I were picking out matching headstones for our parents.
Soothing my grief with my ever-present hobby of quilting, I embraced my "New Normal" by sorting through my parent's clothing. Every fiber still held rich memories for me. That first cut was the most difficult but I immediately felt my heart begin to mend. By the end of the day, I had enough fabric to create 5 Legacy Quilts for their precious grand-kidlins.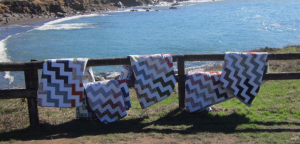 Momma always taught me, "Life is all about how well we embrace Plan 'B' because Plan 'A' is only on paper". Yep, she nailed it! In my quest to lock on to any solid plan, I accidentally began my business, Curly Girl In Stitches. Now I have the honor of helping others in their grief journey.